Step 1 (registrations)
Create account on digital ocean https://www.digitalocean.com
After registration click on create new droplet and choose Ubuntu 18.04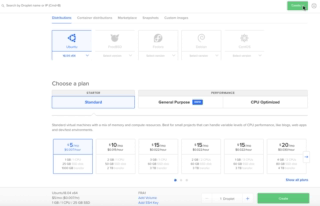 Step 2 (get email)
After creating new server you will get email with details about new server and one time password.

Step 3 (connect and reset password)
Connect to youre server using SSH protocol. After first time connection server will require to insert name and first time password. Insert "root" to login and password that you get from the email. After new your new password. Connect again to the server with the new password.